iQibla 2022 New Products Lead Muslim Smart Wearables Trend
iQIBLA, the No. 1 Muslim smart wearables brand, is about to officially launch the second generation of its smart Zikr Ring Flex.
In 2021, iQIBLA launched its first smart Zikr Ring, which received enthusiastic praise from consumers as soon as it was launched. After a year of polishing, iQIBLA is going to launch the second generation of Zikr Ring Flex.
Compared with the first generation, Zikr Ring Flex has made a bold change in appearance design. The ring host and finger ring adopt detachable design, 1 smart core with 3 finger rings, users can flexibly disassemble and install, and completely say goodbye to the trouble of size mismatch fingers.
At the same time, the second generation ring will be launched in a variety of materials and colors, suitable for all ages of consumers. The first two versions of the ring, Zikr Ring Flex and Zikr Ring Flex Pro, will be available in the first batch. The basic ring will also be available in four colors: emerald green, premium blue, space black, and coffee, while the Pro ring features an alloy ring, ceramic buttons for a warmer touch, and a color plated face for a high-tech luxury feel. The colors are even FOH and champagne gold.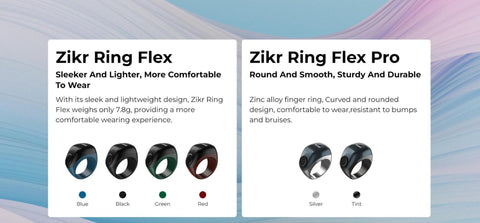 In addition, in terms of functionality, in line with the basic functions of the first generation of rings, such as prayer time reminder, Tasbeeh intelligent counting and times vibration reminder. Based on this, the second generation ring Zikr Ring Flex has made further upgrades and improvements to the core functions, namely Tasbeeh smart counting and vibration reminder. First, the total number of buttons has been upgraded from three digits to four digits of 9999 to meet everyone's zanjan needs. Second, while the count reminder of the first generation ring is 33,66,99,100, the second generation ring has been upgraded in the software so that users can personalize it and choose which numbers to vibrate to remind.


In Q4 2022,  iQibla will continue to launch a series of smart wearable products, iQibla continues to bring convenience to people's lives with smart wearable technology, iQibla, makes worship easier!